Born and bred in Jerusalem, I was continuously exposed to elements of the three monotheistic religions and generally experienced friendly interaction and acceptance of each other. However, times have changed and divisions have occurred which need to be addressed, and I feel that music and song can be effective means to achieve this goal.
Music has been attributed healing powers throughout history. This is the theoretical basis for a widespread belief that music can be an effective means to ameliorate human conflicts and grievances of the most diverse kind. - Professor Edwin Seroussi: Bridges and Barriers: Jewish Musical Experience under Islam (2004)
In my Masters thesis I give examples of songs that could be effective in aiding reconciliation, particularly songs about Jerusalem, as they represent an important bridge between the three monotheistic religions which have strong historical ties to the city, as each regards it as their spiritual home.
Jerusalem (often referred to as "The City of Peace"), for the Jew it has always been an eternal goal:
If I forget thee, O Jerusalem
Let my right hand wither...... (Psalm 137:5, Holy Bible)
To Muslims, their attachment to Jerusalem (Al Quds - The Holy) is expressed in the Hadith which is the oral traditions relating to the words and deeds of the Islamic Prophet Mohammad:
O Jerusalem, the choice of Allah of all his lands!
In it are the chosen of his servants... (Hadith, Prophet Mohammad)
And to Christians the importance of the city is epitomized in the song The Holy City, which ends with:
Jerusalem, Jerusalem hark all the angels sing,
Hosanna in the highest, Hosanna to your King...
(Music: Stephen Adams. Words: F.E. Weatherly)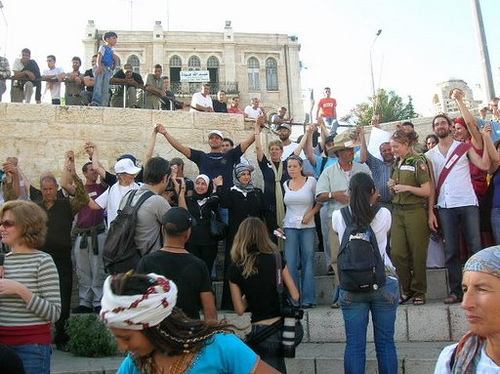 Gathering of Jews, Muslims and Christians in Jerusalem
QUANDO EL QUANDO REY NIMROD (A song about the birth of the patriarch Abraham)
The song Quando el Rey Nimrod has become a major symbol of reconciliation between Muslim and Jew, and its universal appeal is now a powerful bridge between Jews and Muslims, who share the same ancestry. As a result, the song has been adopted by various grassroots peace movements such as the Abrahamic Reunion, Abraham's Path, and Sulha Peace Movement (Arabic word Sulha and Hebrew word Sliha both mean 'forgiveness') to demonstrate their mutual acceptance of one another and their shared history.
The Israeli government is going to great lengths to overcome any mutual animosity, and has created an organization called The Abraham Fund Initiatives (1989), which is specifically designed to provide mutually beneficial activities and include: joint commercial ventures, educational programs, workshops, and language classes, "advancing coexistence and equality amongst Jews and Arabs in Israel".
The Abrahamic Fund Initiative website: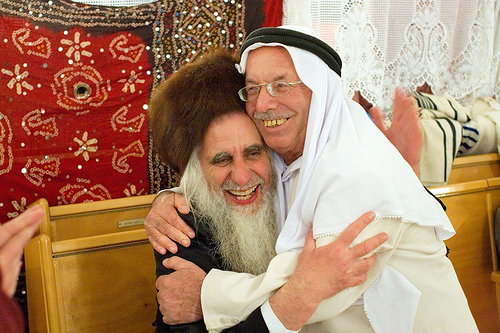 Peacemakers Rabbi Menachem Froman and Ibrahim Abu El-Hawa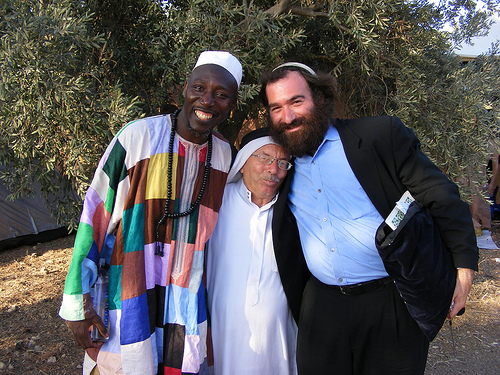 Sufis and Jews at Sulha Meeting
Both Jews and Christians celebrate the Bible in their own way, but nevertheless their enthusiasm and dedication to the Biblical teachings is very similar. Even many of the words are the same, both use the Hebrew words Hallelujah (Praise God), Hoshana or Hoshiana (Save us), and Amen ('So be it' or 'Let it be'). The word Amen is etymologically related to the Hebrew word emuna, which means 'faith'. The bridges between Christianity and its Jewish antecedents are most marked in the style of cantillation. This style was influenced by the basic traditions of Palestinian and Syrian communities, and spread throughout the Middle East and Europe. "Even today certain elements in the music of the synagogue survive in the Roman Catholic liturgy" (Hindley 1987:58). However, this view has been contested by many serious scholars.
Christian usage of the word Hoshiana has come through the Greek Bible, where it has taken on the form Hōsanná. Greek traditional practice in the church is similar to that in the synagogue, whereby they read a weekly passage from the Torah, as according to Father Aristobulous (fieldwork Israel 2006), the Greek Traditional followers see themselves as the first Jews that converted to Christianity, and they maintain this Jewish prayer custom today.
Dior Thesis (2009): Sephardic Song: A Bridge Between Cultures
WOMEN OF FAITH DINNER
I was invited to Affinity's Intercultural Foundation's Annual Women of Faith Dinner in March 2007, where many women from a variety of different faiths celebrated motherhood and discussed the effects of materialism on family values. The function was to recognize the achievements of influential and motivational women from the three Abrahamic faiths. The evening included readings from the three holy scriptures; the Quran, Torah and Bible. I read the story of Moses from the Book of Exodus and sang songs representing Islam (in Arabic). Judaism (in Hebrew), and Christianity (in English).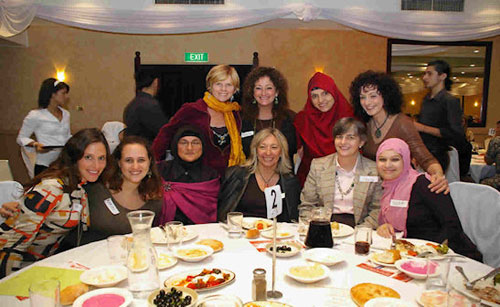 Dahlia and friends at Women of Faith Dinner
PASSOVER CELEBRATION
In April 2008, a Passover gathering (Seder) of 20 people of Jewish, Muslim and Christian backgrounds was held at the home of interfaith activist, Donna Jacob-Sife. In Donna's own words, "As we say at the beginning of our Seder, let all who are hungry come and eat - it is the hunger for a harmonious society that draws us together - the vision of a world of Messianic promise, when the lion shall lie with the lamb, and the Moslems and Christians eat at our Jewish table with pleasure and genuine friendship.
The food supplied by the Jewish guests was abundant and delicious, and Dahlia Dior's singing of the songs and prayers added another dimension altogether!
The word companion means: com - with, panion - bread. When we eat together, we become companions, and that is what is happening for us in the Jews for Social Justice Committee who focus on inter-faith dialogue. And it feels to me, that this is not symbolic, but substantial, and that a real affection for each other is growing as we begin to reveal ourselves and our faiths - little by little".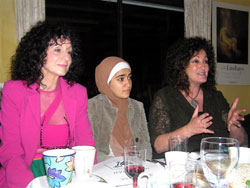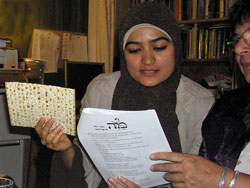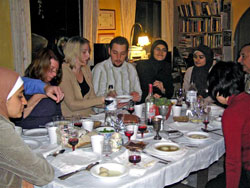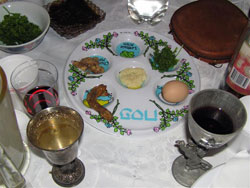 Dahlia, hostess Donna Jacobs-Sife and guests at Passover dinner
THE SULHA PEACE PROJECT
Some years ago, a Jew and a Palestinian decided to get together with a small group of friends. They wanted to find a way to bridge the many gaps, political chasms and misconceptions about the supposed enemy. Despite all the scepticism, the peaceful gathering was just that: peaceful, comfortable and safe.
This gathering grew and with equal partnership between Jews and Arabs they established what is known today as Sulha. Sulha simply means "meeting" - it is an old Arabic tradition that is used to resolve conflicts. In a traditional Sulha, a mediator sits between the parties, and each side is given a chance to speak. There is no talk back and no argument. It is a chance to listen and be heard, in a secure environment.
To demonstrate the positive efforts being made in Israel to further interfaith dialogue and co-existence, an interfaith meeting was held at the North Shore Temple in 2006 on Dahlia's return from Israel to screen the documentary The Sulha Peace Project. Dahlia brought this film back from Israel (where she had been studying Conflict Resolution at the Hebrew University) and it showed the very active and positive grassroots inter-faith movement in that country. The film was given to Dahlia by Gabby Meyer the co-founder of the Sulha peace movement. In an effort to foster interfaith harmony in Australia, Sulha has arrived in the form of listening circles (SULHAoz).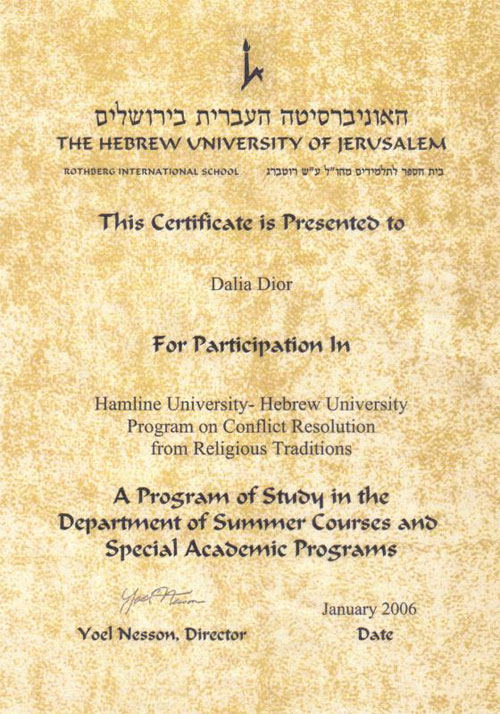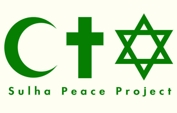 Other Israeli peace movements include:
Peace Child Israel | Jerusalem Peacemakers
The Peres Centre for Peace | Abrahamic Reunion
Abraham's Path | The Abraham Fund Initiatives
Peace Circle | Middle Eastern Children Foundation
Foundation for the Advancement of Tolerance Through Music
DESPERATE HOURS
Dahlia joined the Muslim-Jewish Dialogue Group which consisted of Jews For Social Action North Shore Temple Emanuel and the Muslim Affinity Intercultural Foundation. The group arranged a community function at the University of Sydney in order to screen the documentary Desperate Hours. The film demonstrated the valuable assistance provided by Muslims to Jews during World War II, when the Muslim Turkish government saved 20,000 Jews during the Holocaust.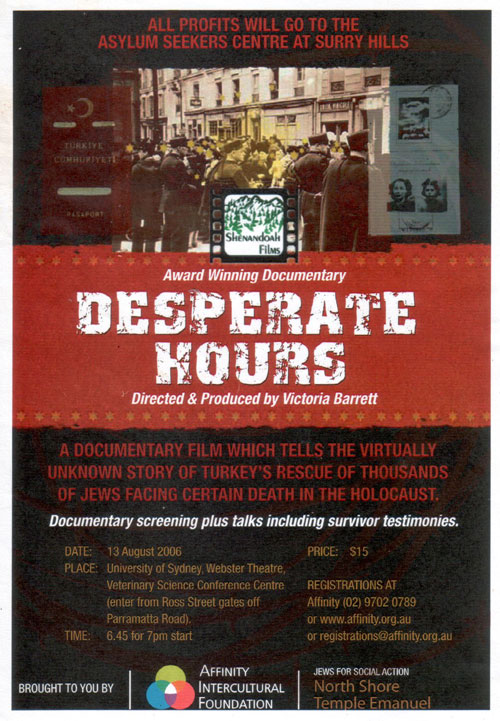 The group, headed by interfaith activist Elizabeth Ban, also organized a special interfaith function where members of each faith could share and explain important elements of their faith so each had a better understanding of the others religious beliefs. Stories were shared, songs were sung, and each brought their traditional foods for all to sample and enjoy. It was a very special evening and not easily forgotten.
To further encourage mutual respect and foster interfaith understanding, the Affinity Intercultural Foundation hosted our group on a visit to the Auburn Mosque. Members of Affinity gave detailed explanations of the activities that took place within the mosque and the meaning behind various aspects of its structure. The event coincided with a community open day where sumptuous amounts of traditional foods were made available and greedily enjoyed, so not only did the group expand their knowledge of the Muslim faith, but they also had an unintended expansion of their waist bands.
In order to impart a greater understanding of the Holocaust and its terrible impact on the Jewish people, our group hosted members of the Affinity Intercultural Foundation to a tour of the Jewish Museum. Our guide was Holocaust survivor Lotte Weiss and everyone present was made painfully aware of her story as she described in detail her memories of that time.
PARLIAMENT OF THE WORLD'S RELIGIONS
The Parliament of the World's Religions held a major event in Sydney at Old Government House Parramatta, Australia's oldest public building, which gathered together members of many faiths in order to discuss universal issues of faith and the environment. Following the lectures and interactive forum, was a concert show-casing outstanding performers from Sydney's diverse faiths and traditions. The M.C. and artistic director was Fay Sussman, who did an outstanding job in putting together a most interesting and entertaining program, which included: a group singing songs from the Sikh holy scriptures; an opera singer, an outstanding violinist who played a fusion of Aboriginal didgeridoo music; a Bosnian Muslim choral group, an African choir; and concluded with Dahlia singing songs of peace and faith.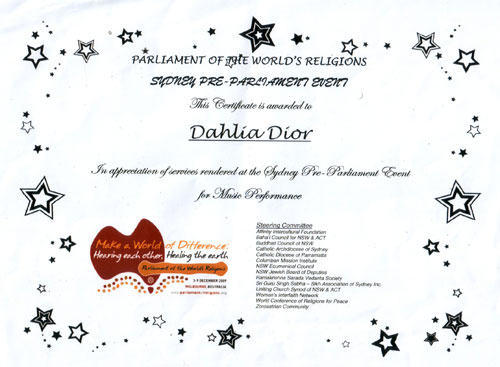 JERUSALEM PEACEMAKERS
During my fieldwork in Israel for my Masters Degree I worked closely with the Jerusalem Peacemakers who are a network of independent interfaith peace-builders dedicated to encouraging understanding and reconciliation in the Holy Land. I was also invited to some of their homes - Eliyahu McLean (Israeli Jew), Sheikh Aziz Bukhari (Sufi), and Ibrahim Abu el-Hawa (Palestinian Arab). They each were involved with interfaith projects around the world - educational seminars in confronting cultural conflicts, and investigating the practical role of religion in confronting cultural conflict in our society today. Despite the tensions that currently exist, they are of the opinion that cooperation in interfaith education can result in the dynamic of understanding the "other".
One of the recent activities of the Jerusalem Peacemakers was to host an event about the work being done to help build bridges between Syria and the West. My informer, Eliyahu McLean, discussed the work of Marc Gopin, who is the only American Rabbi to address the Syrian nation. At the conference Gopin shared information about his mission of reconciliation in Syria. During the previous three years he participated in five conferences in Damascus at the invitation of the Syrian government, as well as presented at a number of Syrian universities, on the issues of interfaith tolerance and interfaith cooperation in building civil society. All were broadcast on Syrian television and some on Al Jazeerah.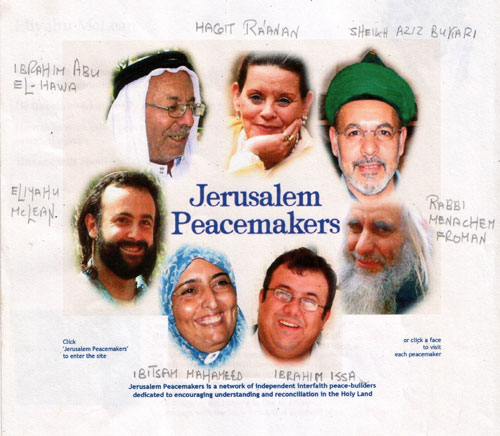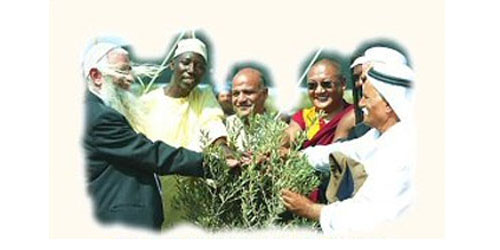 The olive branch: peace begins where faiths and beliefs come to meet
EVANGELICAL SISTERHOOD OF MARY
The Evangelical Sisterhood of Mary is an order of nuns founded in 1947 as a form of repentance for the wrongs inflicted upon the Jewish people during the Second World War. Their home in Kanaan, Darmstadt, Germany, is a refuge and haven for Holocaust survivors where they can rest and be cared for with loving kindness. It has since expanded around the world, and in 1971 established a branch in Australia.
I have performed at a number of interfaith events involving the Evangelical Sisterhood of Mary. In 1996 the Sisters participated in a Holocaust memorial event at the Laycock Centre in Gosford, as a way of showing their strong support and solidarity with the plight of the Holocaust (Shoah in Hebrew) survivors. At this event the B'nai B'rith Singers, of which I was a member, sang songs commemorating the Holocaust.
Another such event was held in 1998 by the Jewish Women's Council of New South Wales in Woollahra celebrating Jerusalem Day, where the Sisters sang songs about Jerusalem and waved Israeli flags. I sang a medley of Jerusalem songs, and finished my bracket with Inshallah, which is a musical prayer for peace and reconciliation in the Middle East.
The Sisters held a Judeo-Christian celebration at the Clancy Auditorium at the New South Wales University (2000) as another display of their efforts to further faith and reconciliation. I was asked to perform at this function, and apart from singing Jerusalem of Gold, I sang a Hebrew prayer for peace, Lu Yehi (Let it be).
In 2006 I had the good fortune to visit the Sister's home in Jerusalem, where they run a guest house for Holocaust survivors (established in 1961) called Beth Abraham. As a welcome to their Jewish guests, they rejoiced in reading passages from the Tenach (Old Testament), as a way of showing that the "Almighty never forgot His people in all their troubles and never will. His covenant with them stands forever" (Mother Basilea Schlink, founder of the order).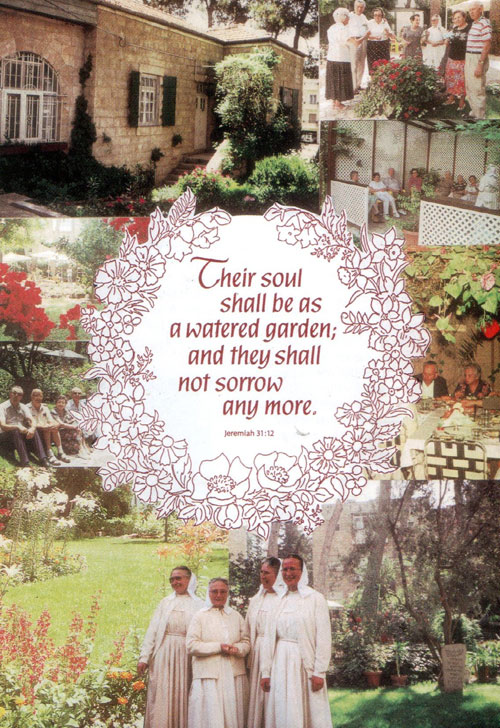 REFUGEE WEEK - SYDNEY JUNE 2007
While working with interfaith activists in Sydney I was asked to perform during Refugee Week at the Bowen Library, Maroubra. The occasion was to launch the book Acting from the Heart, a book about asylum seekers and refugees, and their individual stories. This reminded me of a picture I had of myself aged three which became part of the Israeli campaign to save Jewish Holocaust refugees after the Second World War. Unbeknown to me, a photographer had taken my photo and used it on large posters right around Jerusalem I order to bring attention to the plight of the refugees. In effect I became the "face" of the refugees.